Here is what I woke up to this morning:
I will admit, this is beautiful. But then you have to shovel it! And this was heavy stuff. I wonder how the birds felt about it?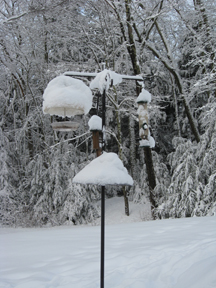 I wonder, do animals appreciate beauty?
I wonder also, if you come from a warm place, like I do, do you ever become accustomed to cold snowy winters? Do you ever stop missing the warmth? Do you ever start enjoying shoveling snow? Inquiring minds want to know!
This morning was even more striking because I just returned from the Southern California Writer's Conference in San Diego, where it was 80 degrees most of the time I was there! And the surf was great!